Alan Petlin Gourmet Floors
Alan Petlin Gourmet Floors is an independently-owned local flooring design showroom serving San Antonio and the surrounding communities. Our business is part of the International Design Guild, the only luxury flooring alliance in the country. Through this affiliate we are able to provide the utmost quality products and services as we focus on serving the needs of the luxury consumer.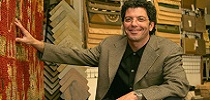 Quality and style, in addition to value, are important considerations when making a flooring investment. With years of flooring and design experience we inspire our clients and guide them through designing a room that matches their style and lifestyle for years of long lasting beauty.